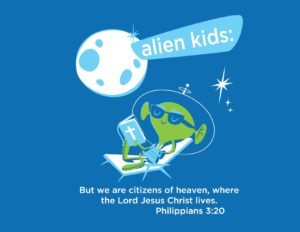 1 Peter 2:11 teaches us that we are "aliens in this world." To live a life that is out of this world, we must guard our hearts and minds from all the sinful influences of the world. We do that by following the "Amazing Alien Diet."
We continue by learning the ability to "Come in Peace." When we get in a jam, we can "Phone Home" and God will answer us.
In the end, living life as an alien kid is always about taking others "to our leader," Jesus Christ. We hope this week will stir Kampers into living a life that is OUT OF THIS WORLD!
iKamp is a week-long day camp for rising 1st-6th grade students. iKamp is held on campus at Rehoboth. Each day starts at 8:30 with sign in, worship, and Bible study.
After lunch, Kampers will participate in three different tracks which include crafts, archery, duct tape, science, soccer and more.
At 4:30, the students gather for closing celebration and dismissal.
The cost is $50 per child. T-shirts are included in this year's price if registered and paid by May 29th. Additional t-shirts will be available at a first come, first served basis.